THE WAREHOUSE
THE WAREHOUSE
The best place to have a bev-up in a Brewery! Home to our Brewery parties and birthday bashes, The Warehouse is an up-and-coming venue. With an onsite bar, additional horse-box bar, space for food vendors and the biggest dance floor, it's the perfect place for a boogie and live music.
The Warehouse is also available to hire for large events - as an incredibly versatile space, it's suited to almost any occasion! Get in touch for a quote today.
*Max capacity 499 people.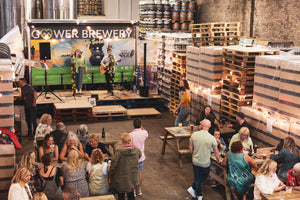 If you'd like a quote, more information on drinks packages and hiring options- we'd love to hear from you!